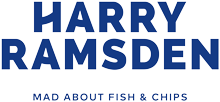 Mad about fish 'n' chips
At Harry Ramsden we're mad about fish'n'chips – not just because we've been serving them for over 90 years, but because the great taste of every portion keeps our customers coming back for more, every time.
With over 30 outlets throughout the UK, every restaurant, take away and quick service restaurant adheres to the same high quality standards as set by Harry Ramsden himself in 1928.
Proud of our heritage, we still closely guard the secret recipe of Harry's famous batter, which is freshly mixed every day to ensure the consistency is just right to complement our delicious fish, and make the perfect chip using British potatoes, carefully selected and chipped every day: it's this dedication to continuing the traditions of our founder that helps us to keep serving up the tastiest fish and chips in the world.